CORPORATE GREED. DELIBERATE DECEPTION. AND COLLUSION.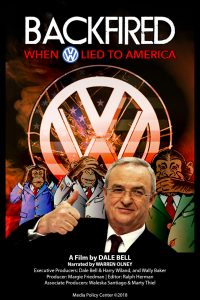 Even secret testing on monkeys! The Media Policy Center announces the premiere of its new film, BACKFIRED: WHEN VW LIED TO AMERICA, that investigates Volkswagen's premeditated lethal emissions scandal, against the timeline of our nation's environmental movement.Three years after the largest auto scandal in history was exposed in September 2015, it's far from over: VW executives get prison time, Europe cannot collect fines as in the U.S. because it is handcuffed by a scarcity of laws, and America faces serious set-backs to our own air-quality regulations. The legacy of California's half-century of leadership in climate change and global warming legislation is on the line under the Trump regime.
The film, narrated by award-winning journalist, Warren Olney, (whose great grandfather helped John Muir found the Sierra Club) begins its national broadcast on public television stations in mid-September, 2018.
Now, as President Trump tries to repeal or roll back air pollution and climate change legislation, allowing emissions to soar and become more harmful, BACKFIRED gains national urgency. The film traces how graduate students in engineering from West Virginia University were the first to reveal VW's lies. The California Air Resources Board (CARB) led the fight to prosecute VW, with the DOJ and the EPA. Six-hundred-thousand U.S. consumers, as well as many communities nationwide, benefit from the $26 Billion penalties paid by VW in the U.S.  No fines yet in the rest of the world.
BACKFIRED features key players: Governors Davis, Schwarzenegger and Brown, Mary Nichols (head of CARB), Willie Brown (Former State Assembly Speaker), State Senator Fran Pavley, class-action attorney Elizabeth Cabraser, California Senate President Pro Tem Kevin DeLeon, Martha Arguello (Physicians for Social Responsibility), , Nancy Sutley (former head of CEQ under Obama), Jack Ewing (The New York Times), Astrid Doerner (Handelsblatt), Dan Neil  (The Wall Street Journal), and David Kiley (Forbes). The film was made in Germany, Paris, D.C., NYC, Morgantown, WV, and, of course, California where the CARB team spearheaded the investigation and the settlement.
The film is produced by the Media Policy Center, a 501c3 entity, whose mission is to leverage media for social justice and an engaged citizenry. Harry Wiland is Co-Executive Producer; Wally Baker is additional Executive Producer; Margie Friedman, Producer; Ralph Herman, Editor; Waleska Santiago and Martin Thiel, Associate Producers. Dale Bell is Co-Executive Producer, Director, Writer, and Cinematographer.
To pre-order a copy of BACKFIRED for private screenings go to:
For more information contact the Media Policy Center:
Kathleen: kathleen@mediapolicycenter.org
Margie: margie@mediapolicycenter.org