COMING TO PUBLIC TELEVISION STATIONS SEPTEMBER, 2018
It's the largest auto scam in the world and it's not over yet. What began in California is reverberating globally and the Media Policy Center has the "exclusive" inside story from the men and women (mostly women) who took down this auto giant.
BACKFIRED: When VW Lied to America, narrated by veteran journalist, Warren Olney, is the one-hour television special that reveals step-by-step the covert investigation that led to the bombshell discovery of evidence pointing to the installation of defeat devices in VW diesel cars to deliberately circumvent and avoid California and U.S. vehicle emissions standards on a scale never imagined.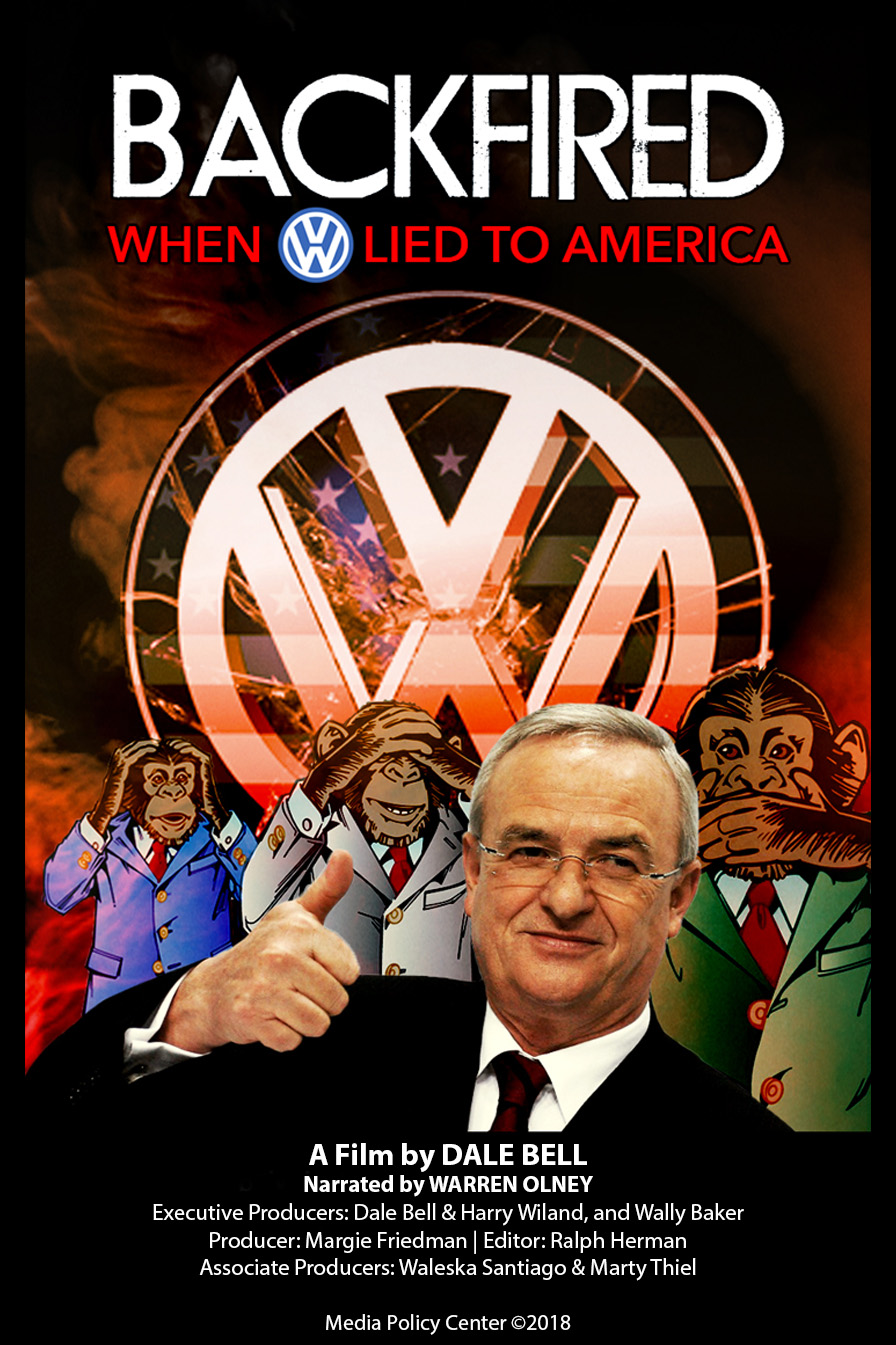 In 2008, Volkswagen executives proclaimed they would "dominate the auto industry by 2018, economically and environmentally." Now, those executives are dominating the news with admissions of guilt; some already behind bars. Climate change and the impact on the health of our planet superseded by a malicious tale of premediated corporate greed and corruption. MONKEY BUSINESS!
THE INSIDE STORY
The Media Policy Center secured unprecedented authorization from the California Air Resources Board (CARB) to disclose CARB's role in revealing and verifying Volkswagen's deceitful practices.
BACKFIRED: When VW Lied to America tells the inside story of the VW scandal as it unravels beginning at West Virginia University in 2013 where a group of unsuspecting students accidentally discover the defeat device while doing rare on-road testing. They immediately share their stunning discovery with CARB that verifies the findings and engages with the EPA and DOJ to carefully plot filing suit against VW's top executives. VW is slapped with the largest fine in U.S. auto history: $15 billion in what's now known as "Dieselgate." And, it gets worse. Most recently, it was discovered that VW secretly tested emissions from defeat devices on innocent monkeys at a lab in New Mexico.
From West Virginia to California, to Washington DC, to Germany and Paris, we hear from those who broke the case and sought justice. Among others, CARB Chair, Mary Nichols; leading VW class action attorney, Elizabeth Cabraser, former EPA lead investigator Cynthia Giles, DOJ lead investigator John Cruden, New York Times reporter Jack Ewing, and two of the biggest leaders in climate change, California governors Jerry Brown and Arnold Schwarzenegger, at the UN Climate Change Conference in Paris in December 2015.
BACKFIRED: How VW Lied to America will leave viewers with new insight into the role of regulators, the power of money and most important, make us think about the role of our citizenry, our civilization and our obligations to our children. The question is: will the VW scandal put an end to corporate deceit? Can media help to restore honesty and integrity to "corporate governance?"
WHAT PEOPLE ARE SAYING ABOUT BACKFIRED
Read what Forbes contributor and global auto business expert, David Kiley, wrote about this important film: Volkswagen Diesel Scandal Coming To A TV Screen and Movie Theater Near You
Here is what Elizabeth Cabraser, lead attorney, VW consumer class-action lawsuit, has to say about the film: "BACKFIRED: When VW Lied To America"
"Dale, just finished watching this. You've done an amazing job. None of the other reports I've seen including my own put the Volkswagen scandal into the context of the whole clean air movement. There is a lot of fascinating detail and I learned a lot.  Thanks, and again congratulations on the great work especially considering you didn't have a deep-pocketed backer like Netflix." Jack Ewing of the New York Times, whose stories from Frankfurt, starting September 2015, have chronicled the VW Monkey Business, and who has written the book "Faster, Higher, Farther: The Volkswagen Scandal", soon to become a feature film under Leonardo DiCaprio.
"Jack Ewing is right, interweaving the VW scandal throughout your air pollution and climate change narrative was brilliant.I just finished watching your movie.  Your years of interviews and your ability to share California's air and climate history through the eyes of Mary Nichols and the VW scandal made this very compelling.  I was glad to be part of the journey." Former California State Senator Fran Pavley
"What happens when a company lies to push its cars as environmentally friendly? Lies to risk the health of people and the planet? Lies to the women and men who enforce America's clean air laws? "BACKFIRED: When VW Lied to America" is a riveting exploration of VW's unmasking. It offers a smart example on how citizens, scientists and politicians of both parties outed a world-class corporate polluter. In an era of environmental rollbacks, the story offers insight for anyone interested in fighting back." Jennifer Siebens, Former CBS News Executive
"I think the terrific one-hour special done by Dale Bell at the Media Policy Center brilliantly captures the outrageous dissembling and theft of health committed by VW.  Dale did a great job on "my" Designing Health Communities series, and I think this shows continued excellence." From Dr. Dick Jackson, host of Designing Healthy Communities on PBS; Professor emeritus, UCLA Fielding School of Public Health. Director emeritus, CDC National Center for Environmental Health; former Chief Public Health Officer under Governor Schwarzenegger.  
THE TEAM
Media Policy Center co-founder, Dale Bell, is the Co-Executive Producer, Director and Cameraman of "BACKFIRED: When VW Lied to America." Co-founder of MPC, Harry Willard, also serves as Co-Executive Producer. Wally Baker is an additional Executive Producer. Margie Friedman is the film's Producer and Ralph Herman, the Editor. Waleska Santiago and Marty Thiel are Associate Producers.
To see an interview with director, Dale Bell, click here:
PRIVATE SCREENINGS
BACKFIRED: When VW Lied to America is available to educational institutions, organizations and for screening at events and conferences along with public performance rights.
JOIN US
Join BACKFIRED on Facebook at: www.facebook.com/backfired
For more information please contact the Media Policy Center.
 COMING SOON: THE BOOK
BACKFIRED: When VW Lied to America written by Forbes contributor and global auto business expert, David Kiley.
AVAILABLE SOON
A series of short films edited from the original materials.